Web Counters
Website Visitors
Since
January 19, 2011

Visitors Today
Sep 24, 2022

The Union Fire Company No. 1 covers approximately 92 square miles of a first due Fire/EMS district. This makes up the largest district for any one company in Chester County.

The district is comprised of the Oxford Borough, East Nottingham Township, West Nottingham Township, Elk Township, Lower Oxford Township, and portions of Upper Oxford Township.

Hydrants line the streets in Oxford Borough. However, with the exception of a few sporatic hydrants from the Chester Water Authority, the remainder of the district relys on water supply sources such as ponds, streams, and tankers.

In addition, the Union Fire Company No. 1 Ambulance Division has an increased first due district that stretches into all of Upper Oxford Township and portions of Colerain Township Lancaster County.

Both the Union Fire Company No. 1 and the Ambulance Division provide mutual aid into other districts within Chester County, Lancaster County, and Cecil County, Maryland.

With such a large first due territory, the Union Fire Company No. 1 relies heavily on mutual aid companies to assist during structure fires and other large scale incidents.

It is with a great working relationship with our neighboring fire companies, that enables the Union Fire Company No. 1 to continually serve the citizens of Southern Chester County to the best of our ability and to the standards that every person deserves.
District Maps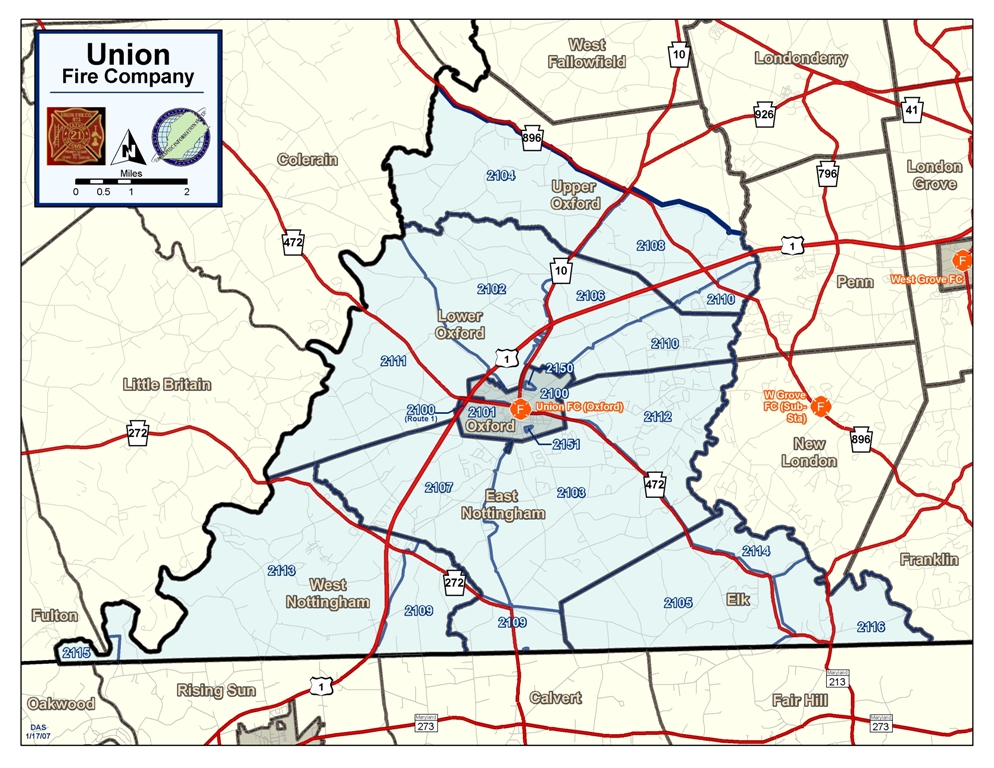 09/14/2020: 09/14/20 16:10 MEDICAL-ABDOMINAL PAIN - ALS 2103 ENOTT
09/14/2020: 09/14/20 11:17 MEDICAL-RESPIRATORY DIFFICULTY 2105 ELKTP
09/13/2020: 09/13/20 14:35 ACCIDENT-BLS 2102 LWROXF
09/12/2020: 09/12/20 16:40 ALARM-FIRE 2103 ENOTT
09/11/2020: 09/11/20 11:29 ALARM-CARBON MONOXIDE 2100 OXFRD
09/11/2020: 09/11/20 09:57 ALARM-FIRE 2100 OXFRD
09/10/2020: 09/10/20 12:04 FIRE-GAS LEAK OUTSIDE 2106 LWROXF
09/09/2020: 09/09/20 13:20 FIRE-HAZARDOUS MATERIALS INCID 2113 WNOTT
09/09/2020: 09/09/20 12:55 FIRE-GAS LEAK INSIDE 2100 OXFRD
09/09/2020: 09/09/20 09:48 ALARM-CARBON MONOXIDE 2100 OXFRD
2022 Incidents
Fire
EMS
Jan
64
273
Feb
39
218
Mar
59
255
Apr
49
254
May
47
233
Jun
62
238
Jul
62
259
Aug
Sep
Oct
Nov
Dec
Total
382
1730
2022 Jobs
Working Fires
4
Pins
Municipality Responses
Fire
EMS
Oxford Borough
79
553
East Nottingham
81
369
West Nottingham
40
185
Upper Oxford
20
104
Lower Oxford
72
252
Elk
18
71
Colerain (EMS)
39
Mutual Aid
72
157
Total
382
1730
Past Incidents
Fire
EMS
2005
635
1832
2006
638
1818
2007
604
1920
2008
601
2059
2009
544
1898
2010
571
2061
2011
572
2240
2012
541
2187
2013
596
2137
2014
632
2144
2015
621
2415
2016
581
2256
2017
609
2322
2018
700
2517
Past Incidents
Fire
EMS
2019
581
2567
2020
562
2384
2021
625
2589
2022
2023
2024
2025
2026
2027
2028
2029
2030
2031
2032